Description
Introducing Plantronics EncorePro 510/520
The Plantronics EncorePro 510/520 is built to last and made with comfort and supreme audio quality in mind. Take a look at this quick, 1-minute video to learn how this Plantronics wired headset can take your team's productivity, comfort and efficiency to the next level.
Do More, Better, And More Comfortably with Plantronics EncorePro 510/520
These top-of-the-line corded headsets of Plantronics ensure comfort, quality audio and more benefits for the office such as:
 A flexible, unibody boom.
Aircraft-grade aluminum joints for more durability.
Laser-welded construction that lasts longer.
Visual and tactile positioning guides to help you work more efficiently.
A noise-cancelling microphone to keep you and your team focused at work.
An adjustable fit for superior comfort.
Monaural and binaural wearing styles, so you have an option for every occasion.
Our Plantronics Wired Headsets Let You Move Freely While Working In Absolute Comfort
The Plantronics EncorePro 510/520 boasts an adjustable fit that offers day-long wearing comfort – which increases productivity, focus and mood in the office.
The Quick Disconnect feature lets you get up and walk around the office – and it's also compatible with all the other Plantronics USB, desk phone audio processors, and direct connect cables.
Plantronics EncorePro 510/520 Offers Crystal-Clear Audio For Attentive, Professional Listening
This Plantronics EncorePro 510/520 boasts a flexible, noise-canceling boom, which allows you to customize the position for clearer, louder voice quality.
These wired headsets also offers a flexible, noise-cancelling boom that allows you to position it to your liking – boosting the clarity of your voice, and the quality and comfort you experience when communicating with customers.
The added visual and tactile positioning guides allow you to quickly and precisely position the microphone as you see fit – giving you more control and convenience over your work (HW510/520).
Thanks to the Plantronics EncorePro 500 Series' wideband audio, you will experience reduced listening fatigue and richer, clearer conversations – while the included SoundGuard technology protects you and your workers from noise spikes, helping your office meet OSHA and Noise at Work requirements.
The Plantronics EncorePro 510/520 Are Designed To Be Durable and Reliable –Minimizing Your Worries, and Optimizing Your Work
Plantronics EncorePro 510/520 office headsets are designed to withstand the strains of call-intensive environments – minimizing disruptions and costly downtime.
The Plantronics 500 Series' laser-welded body and sturdy metal joints have been designed to give you peace of mind – boasting superior engineering and reliability where it matters.
QUOTE REQUEST
Or, simply fill up the form below and we will get back to you shortly.
HW510
Over-the-head, Monaural, Noise-cancelling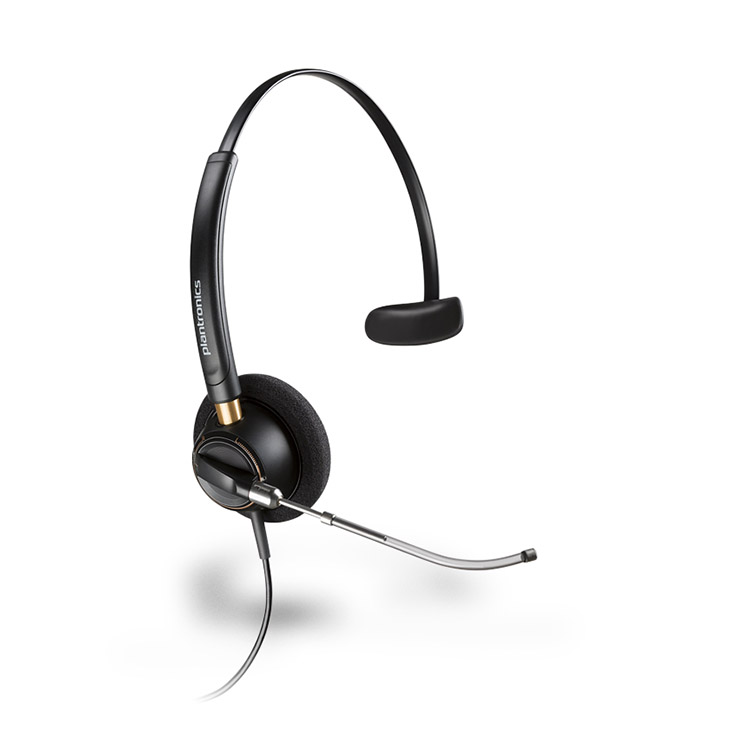 HW510V
Over-the-head, Monaural, Voice tube
The Plantronics EncorePro 510 Monaural Headset – Listen to Your Customers, Without Sacrificing Attention to Your Surroundings
The Plantronics EncorePro 510 is a more flexible over-the-head monaural headset that lets you keep one ear on the client, while keeping the other on your workplace. It's perfect for collaborating with colleagues while communicating with clients, keeping you productive and engaged on both fronts.
The EncorePro 510 has soft ear cushions that make it a comfortable wear all day long, metal joints for increased durability and reliability, and a flexible mic, with visual and tactile positions guides that let you position them as you see fit, allowing for clearer conversations.
HW520
Over-the-head, Binaural, Noise-cancelling
HW520V
Over-the-head, Binaural, Voice tube
The Plantronics EncorePro 520 Binaural Headset Allows You to Immerse Yourself Fully on Your Calls -For Superior Work Efficiency and Performance
The EncorePro 520 also boasts soft ear cushions. Designed for maximum wearing comfort, these allow you to use the equipment all day long without it getting in the way of your work. The wired headset has also been carefully designed with metal joints, giving it a longer life-span, while making it a highly reliable tool for your work. Plus, it boasts a flexible mic, designed to make your life easier and simpler with visual and tactile position guides. These let you position the mic to your liking, so your voice carries over with crystal clarity.
Optimized for Unified Communications
PC or desk phone with Plantronics audio processors
Telephone-intensive users, including formal customer care centers, help desks, telesales and customer service organizations
HW510 Over-the-head, Monaural, Noise Cancelling (52g);
HW510V Over-the-head, Monaural, Voice Tube (50g);
HW520 Over-the-head, Binaural, Noise Cancelling (74g);
HW520V Over-the-head, Binaural, Voice Tube (72g);
Wideband audio (up to 6,800 Hz), noise-canceling microphone
SoundGuard technology: Acoustic limiting for protection against sounds above 118 dBA
HW510, HW510V, HW520, HW520V
Optimized for Unified Communications
Connects To
PC or desk phone with Plantronics audio processors
Ideal For
Telephone-intensive users, including formal customer care centers, help desks, telesales and customer service organizations
Wearing Style
HW510 Over-the-head, Monaural, Noise Cancelling (52g);
HW510V Over-the-head, Monaural, Voice Tube (50g);
HW520 Over-the-head, Binaural, Noise Cancelling (74g);
HW520V Over-the-head, Binaural, Voice Tube (72g);
Audio Performance
Wideband audio (up to 6,800 Hz), noise-canceling microphone
Hearing Protection
SoundGuard technology: Acoustic limiting for protection against sounds above 118 dBA
Models
HW510, HW510V, HW520, HW520V