Jabra corded headsets are designed to answer the ever-evolving demands of the communications industry. Jabra's long and rich experience enabled them to recognize current requirements and offer headsets which fill the gap left by the industry. Enjoy the ultimate in business communication with Jabra corded headsets. Feel the lightweight design and low profile nature combined with crystal clear call quality. Find out why Jabra wired headsets are the choice of professionals all around the world.

Benefits Of Using Jabra Corded Headsets Call Center And Office Environments
Comfort plays a major role in user's productivity and efficiency. Jabra's call center headsets are designed to provide a level of comfort that prevents user fatigue even over extended periods of use. Both the ultra light and more rugged designs from Jabra's corded headset lineup offer an uncompromising level of durability. You can choose between mono and stereo headsets, depending on which design matches your specific needs.
Ultimate Call Quality And Noise Cancellation
Jabra's cutting edge noise-cancellation technology allows the user to completely focus on the conversation and eliminate all ambient noise pollution. The full extent of Jabra's audio quality extends far beyond ambient noise. They have built in peak level technology which protects the user from sudden spikes in volume. This way you can communicate with your clients without compromising your conversation.
Connectivity On Another Level With Jabra Corded Headsets
One of the main areas where Jabra corded headsets come to shine is the range of connectivity options. You can connect to anything from your desk phone to computer. No matter which device you connect to, Jabra's corded headset will allow you to answer, end and manipulate calls using built-in controls found on the wired headset itself. This way you have the ability to quickly get in touch with your clients.
Jabra Corded Headsets Designed For Office And Call Center Applications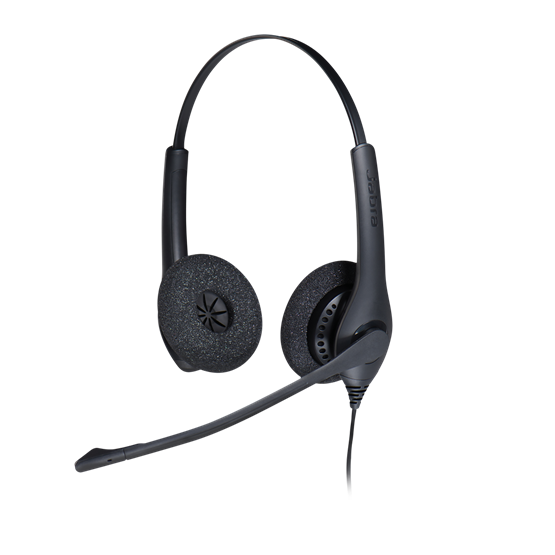 Jabra Biz 1500
Jabra Biz 1500 is a basic headset which proves that being cost effective doesn't necessarily imply compromising quality. Built from durable materials, this Jabra corded headset comes with their cutting edge noise cancellation technology as well as HD Voice feature. Lightweight by nature, Jabra Biz 1500 brings a perfect balance of performance, comfort, and simplicity.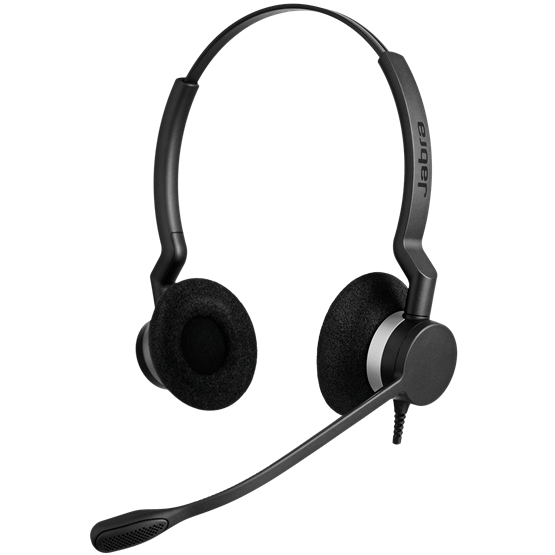 Jabra Biz 2300
Jabra's Biz 2300 ultra light corded headset is purpose built for call center applications. Its low profile nature makes it a great solution for those who demand comfort as well as high performance. Weighing just 49 grams, Jabra Biz 2300 is anything but fragile. Jabra specifically used high-quality materials in order to deliver the required standard of build quality. This corded headset is capable of dealing with everyday call center use without compromising the performance.
Jabra Biz 2400 II
Those who demand the best will find Jabra Biz 2400 II to be a suitable solution for all of their needs. This is Jabra's flagship corded headset purpose built for call center applications. Jabra Biz 2400 II offers ultimate call integrity and audio quality as well as an increased level of comfort. The microphone boom arm found on this headset is nearly indestructible and completely adjustable.
Get Quote On Jabra Corded Headsets
Have a Jabra corded headset model in mind? Simply fill up our form and we will send you the quote.
Why Jabra?
Jabra corded headsets are designed to meet the demands of the communications industry. Enjoy the clarity and productivity in business communication with Jabra corded headsets. Feel the lightweight design and feel comfortable wearing it all day long.
If you are interested in finding how Jabra corded headsets can enhance your organization's performance, contact us via phone or email for more information. We will get in touch with you and tell you exactly which of our wired headset solutions can give you the optimal results.