Sennheiser Wireless Headset
Sennheiser wireless headset range were designed to give you ultimate freedom of movement while maintaining high levels of audio quality. Their extensive experience and vast knowledge allow Sennheiser to answer the communication needs of the modern business world. Experience reliable, secure and clear communication with Sennheiser's cutting edge solutions. Find the solution that works for you in a very diverse range of quality Sennheiser wireless headsets.

Benefits Of Sennheiser Wireless Headsets In Office And Call Center Environments
Work Flow – Modern offices and call centers rely on quick, clear and reliable communication in order to achieve a positive workflow. Sennheiser wireless headsets meet and exceed all of these demands. With an extensive range, numerous built-in features and impressive audio quality, you are guaranteed to stay in touch with your clients at any time and any place.
Answer Calls From Multiple Devices – Being able to monitor all of your lines of communications is critical. Sennheiser wireless headsets allow you to manage calls from multiple devices at the same time. In other words, you can connect your mobile phone, desk phone as well as a softphone to a single wireless headset.
Optimal Efficiency – One of the main policies of Sennheiser as a brand, is to deliver optimal efficiency. Sennheiser wireless headsets strive to offer the same. This is seen both in the design of the headsets themselves, as well as in the features they come with.
Improved Functionality With Sennheiser Wireless Headsets
Sennheiser Noise Canceling Wireless Technology – Modern office environment tends to be very noisy. This is why Sennheiser's wireless headsets come with cutting edge noise canceling technologies. These features will eliminate any noise pollution in your immediate surrounding, allowing the person on the other end of the line to hear only your voice.
Secure And Reliable Connectivity
Sennheiser's DECT wireless headsets meet and exceed the necessary norms. You can enjoy the full benefits of DECT standard with headsets that are comfortable to wear and reliable. Choose from a number of different designs and wearing styles.
Sennheiser Wireless Headset Models Designed For Modern Office And Call Center Environments
Sennheiser DW Office Series
DW Office series wireless headsets are designed for professionals who accept no compromises when it comes to comfort, performance, but also styling. This family of wireless headsets features single sided, two sided as well as ear hook versions. No matter which one you choose, you will experience crystal clear audio, long lasting battery life and extremely short charging time.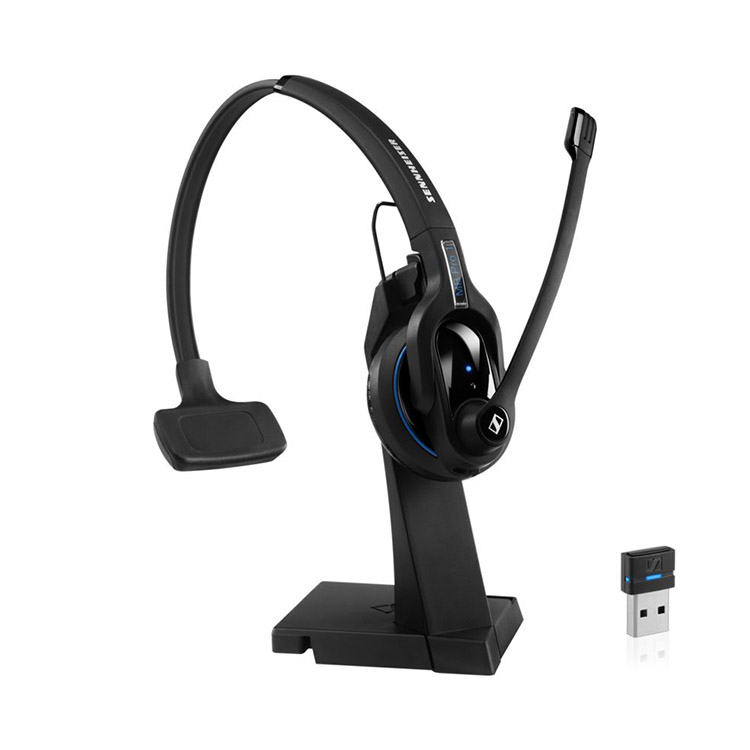 Sennheiser Mobile Business Pro Series
Mobile Business Pro line of Sennheiser wireless headsets is optimized for both office environments as well as modern, dynamic call centers. Sennheiser focused on performance and comfort while designing Mobile Business Pro series, allowing the user to improve workflow to a whole new level. These headsets come packed with cutting edge features that ensure secure, crystal clear communication.
Get Quote On Sennheiser Wireless Headsets
Have a Sennheiser wireless headset model in mind? Simply fill up our form and we will send you the quote.
Why Choose Sennheiser Wireless Headsets?
Sennheiser is a company that has been developing new solutions in the area of audio hardware for almost a century. During their long existence, Sennheiser established a reputation of a true industry leader when it comes to microphones, headsets and transducer design. Your choice to entrust Sennheiser to solve all of your communications needs will be met with reliable performance and high-quality audio.
Select The Best Sennheiser Wireless Solution For Your Business
If you are interested in Sennheiser wireless headsets, contact us via email or give us a call. Our dedicated team at Clarity Vibe will get in touch with you within 24 hours. Let our experienced agents help you find the best Sennheiser solution for your needs.